Image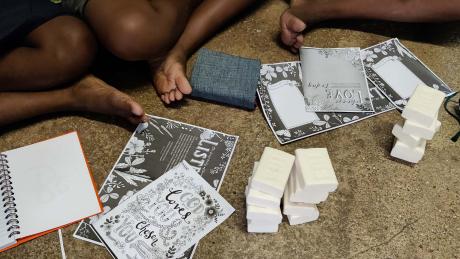 Harriette Knigge
Bringing help, hope, and healing - as it is MAF's mission statement - in the form of soap and Bibles wasn't only a blessing for those receiving the gifts, but even more so for the couriers.
Jacob Luiya and his wife Patricia are tutors at the Telefomin Community Health Worker School. They have a passion to equip and teach the young generation in basic rural health. The couple has been based at Telefomin for a few years now and along with their colleagues, they are just waiting to get the stationery supplies flown in from Kiunga to finally start the new school year.
Having had an unexpected visit from two MAF ladies presenting them with some Bible & Soap Boxes just made their day as they shared in church a couple of days later. 
Image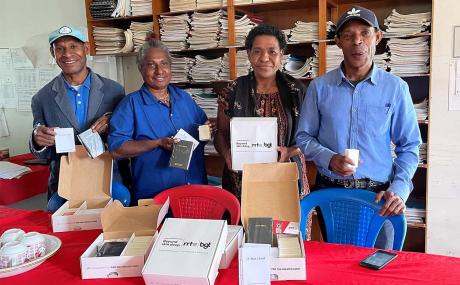 Mandy Glass
Staff members of the Telefomin CHW School. L-r: Jacob and Patricia Luiya, Elis Jacok and Imit Angelok
Richie Axon, one of the Telefomin based MAF pilots, recalls their testimony: "Unfortunately, they had experienced some real trouble with various principals over the time. They have been for some time basically saying to God, 'Look, please open up an opportunity for us to go to other places.' They've made applications to other schools, but haven't actually got to the point of leaving yet. They were sharing in church about this struggle that they'd had and the trouble and just how they had kind of gotten to the end of their endurance. And then they shared how these two white ladies came during the week and gave some Bibles and some other things. They took that as encouragement from God for them to keep on persevering here in what they do."
Image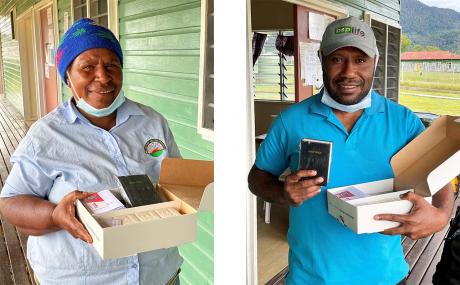 Mandy Glass
Nurse Elly Tom and Dentist Dr Steven Ilo from the Telefomin Hospitalat with the Bible Soap Boxes
Feeling the Love 
"Right now, there are ten women in prison. Two of them have their babies with them," shares Harriette Knigge who with her family is based in Wewak where her husband is a pilot flying for MAF. 
Every week, Harriette visits the Wewak women's prison to encourage the women there, doing crafts, reading and discussing Bible stories, listening to their stories, and bringing them some glimmers of help, hope, and healing. "We want to bring light into a very dark place," Harriette continues. "And we want to bring love, not our own love, but God's love. We want to show them that whatever happened in their lives, they are loved and they are daughters of the almighty God."
"When I got the soaps out, the women were super excited and I could not give them one or two blocks. No, I could give them like five blocks each, which was amazing for them. I could give the mums with the kids a little bit extra as well to take care of their kids. That was really, really lovely! 
"As I explained a bit about the story of where the soaps were coming from - and they really liked the idea of helping the earth by reusing everything or reusing what is possible - the women were amazed by the kindness of people that they would organize something like that for them and then ship it all the way from overseas, so I could give it to them. That's just amazing for them and they felt very blessed."
Eight out of the ten women currently in prison can't read and write or only have limited literacy skills in Tok Pisin. 
Therefore, the Bibles from the Bible & Soapboxes went on a different journey to bless another, more literate and educated group of people. MAF flew them from Wewak to Green River to be distributed between the teachers at the Green River Christian Secondary School.
 
Image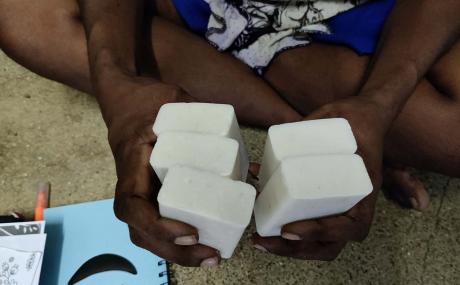 Harriette Knigge
Image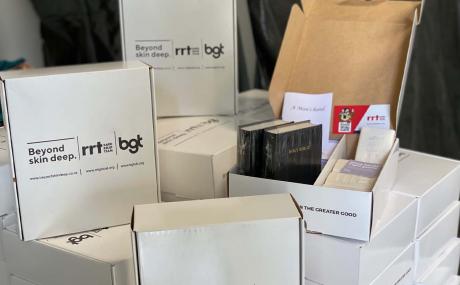 Mandy Glass
The 3-fold Partnership in the Donation Boxes
Rapid Relief Team (RRT)
Good hygiene is the key to a healthy lifestyle, but for some people around the world, access to personal hygiene products, such as soap, is out of reach. Beyond Skin Deep, a New Zealand-based hotel supply and recycling company is collaborating with RRT to produce and donate recycled soap to people from developing communities and countries across the globe. Hotels save waste soap, which is collected, cleaned, and made into fresh bars.
RRT looks after distribution, finding communities where soap is most needed - and found MAF PNG as a partner to bless people in Papua New Guinea with these boxes.
Beyond Skin Deep
Beyond Skin Deep was set up with a single purpose to recycle soap for distribution to vulnerable communities, improving hygiene and saving lives.
Bible & Gospel Trust
Bible and Gospel Trust is a publishing house with headquarters in Chessington, Greater London, established in 1932 as a Charity, distributing Christian literature and Bibles throughout Britain and worldwide.
Image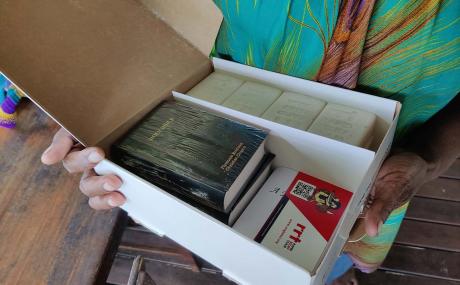 Harriette Knigge