Image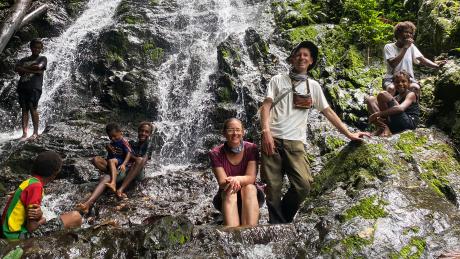 Sharon and Andrew Campbell
Since last year, MAF has been looking for an opportunity for us to do 'bush orientation,' something MAF PNG encourages as a follow-up to language learning. While Sharon has had plenty of bush experience in PNG, the story is quite different for Andrew, who would be considered a townie with his propensity for sleeping on mattresses, using footwear to get about, and a tap to get water.
Finally: Bush Orientation
Pascal Muhlematter left Swiss Airlines where he trained as an engineer and joined MAF with the expectation of serving in Australia. Thankfully, because of the 'Aussie-Immigration-Covid-Associated-Entry-Visa-Closed-Door' scenario, he came to where the 'door' was open - joining us in Papua New Guinea. We are thrilled when these kinds of problems are our solutions - Andrew particularly, as Pascal has the ideal background to cover his Maintenance Control desk when he is away. 
So, in mid-March, we could fly for a week to Ambunti - located on the "Mighty Sepik River."
Image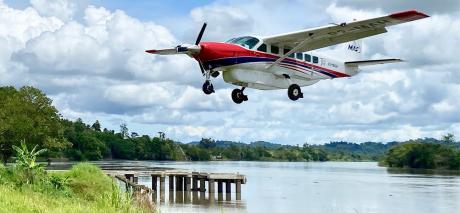 Andrew & Sharon Campbell
Ambunti
Ambunti is accessible only by air, river, or a very long bush walk. 
The Sepik River is the longest river on the island of New Guinea, and the second-largest in Oceania by discharge volume after the Fly River. The majority of the river flows through the Papua New Guinea provinces of Sandaun and East Sepik, with a small section flowing through the Indonesian province of Papua.
Ambunti is in the East Sepik, a province similar in size to New Zealand's Canterbury region, and smaller than Tasmania. It is one of the least developed regions, but also one of the most diverse, with about 100 different languages spoken (or 1/8th of the languages in PNG).  
Image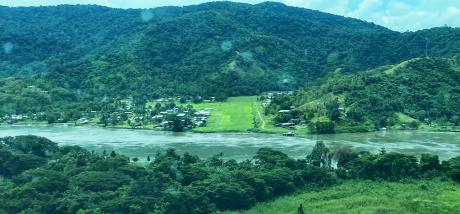 Sharon and Andrew Campbell
Image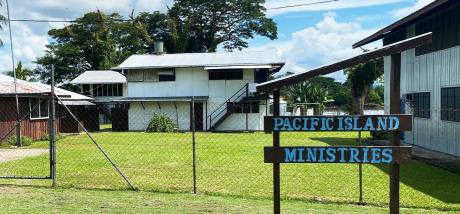 Sharon and Andrew Campbell
Sunday at Church
We were hosted by Pacific Island Ministries (PIM), and the MAF Agent at Ambunti, Clinton, organised our stay, which included a boat trip to a village church at Yelogu on our Sunday there. Approximately 1000 people in the world speak the Yelogu language.
On this church visit, Sharon had the opportunity to speak, on the topic of "Do Not Fear",  based on a PNG focussed Bible study of Dr. Rosie Crowter's book. This topic is of particular relevance in PNG where fear of sorcery is prevalent.
We were hosted afterward for a 'Sago MasterChef Session.' It included filtered burnt coconut ashes, mixed with water, to produce salt for cooking flavour.
Image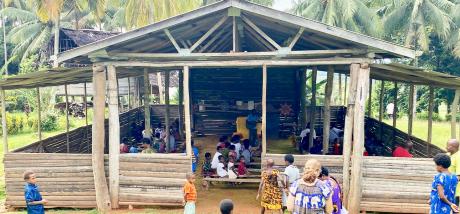 Sharon and Andrew Campbell
Image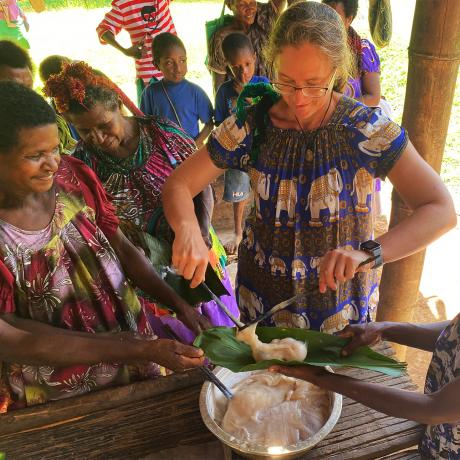 Sharon and Andrew Campbell
Discovering local crops: Vanilla and Cocoa
Vanilla and cocoa are valued crops in this region. East Sepik produces over half of PNG's vanilla, with over 100 tons annually. If you are interested in a rabbit trail, google and check out the story of Edmond Albius, a 12-year-old slave who, through deduction and observation, made the breakthrough that leading botanists of his day couldn't. If you find vanilla suitable for your palette, you owe your taste experience to the pollination technique developed by Edmond.
However, vanilla and cocoa would send you to bed hungry if you relied on them to fill an empty stomach - so for something more substantial, let's talk about SAGO!
Image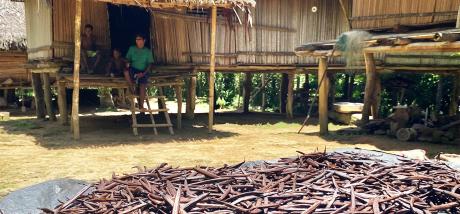 Sharon and Andrew Campbell
Discovering local crops: Sago
One of the most interesting experiences for Andrew in Ambunti (he's a sago novice) was when he and Sharon (Western Province trained sago expert - in comparison) spent a day making sago with Cosmos and Esther and their family. 
MAF has had significant input on their lives when a medevac was required on the occasion that Esther gave birth to triplets about 16 years ago.
In hint sight, we discovered some occupational health and safety requirements to better put in place before harvesting sago:
Always wear safety glasses, safety shoes, a hard hat, and a high vis vest!
Guzzle heaps of water as the temperature can be around 30degC with high humidity!
Mind the scorpions!
Don't trip up!
Don't grab hold of anything around you when you do trip up!
Complete the "Dad taught me how to use an axe and sago pounder" course at your local tertiary institution!
Harvesting sago involves chopping the tree down, removing the bark, pounding the flesh/fibre of the inner part of the trunk, then washing the harvested flesh so that the sago is extracted. 
Cultural practices vary as to how this is done and who does what. A change that Christianity has brought to some families is that previously held food taboos have been broken, which means that men and women can do any part of the process. This has benefited women who would often carry more than their share of the manual labour!
Ambunti sago trees are rather tasty, with the help of added flavour!
Interestingly, the same basic process is used to extract sago today as has been traditionally used.
If you want to make a career in manual sago production, throw your gym membership into the rubbish bin as there don't appear to be too many overweight sago makers about! It must have taken a tremendous effort and energy historically when stone tools were used.
Image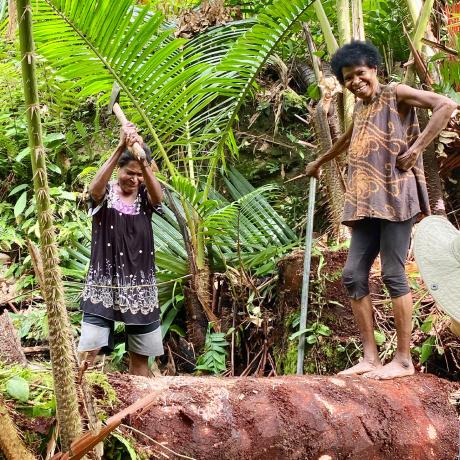 Sharon and Andrew Campbell
Image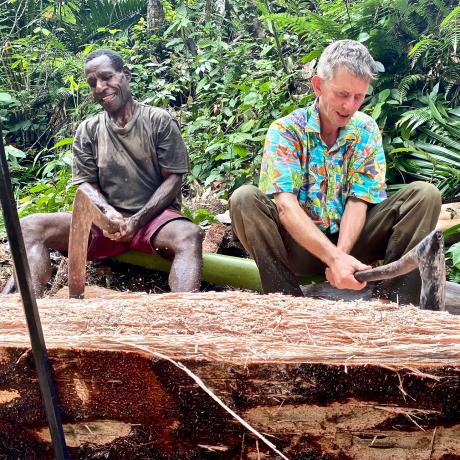 Sharon and Andrew Campbell
Image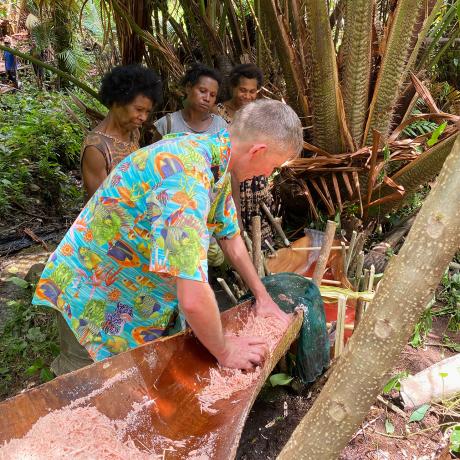 Sharon and Andrew Campbell
Image
Sharon and Andrew Campbell
Image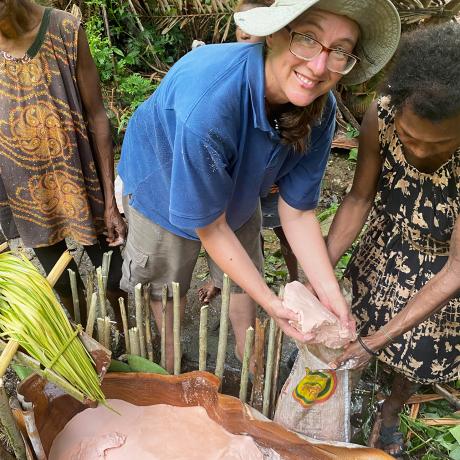 Sharon and Andrew Campbell
Visiting the Health Facility and Primary School
While in Ambunti, we were able to check out the health program. The coordinator there is very keen to have Sharon visit in the future to assist with training workshops for Community Health Workers (CHWs) who manage the rural medical outposts which are administered by PIM. 
We also visited the primary/intermediate school. The primary school principal, Mrs. Vitus, was hosting us. The school is also run by PIM. It is 'electricity-free,' although not by preference. It had a great atmosphere. Every class greeted us by saying, "Good morning visitors, God bless you, and God loves you!"
Image
Sharon and Andrew Campbell
Challenges - in Ambunti, and back in Mt Hagen
During our short visit to Ambunti, we appreciated being able to see the challenges faced by remote rural communities that MAF supports by means of communications and logistics. Doug Heidema arrived as we departed. He first came to work with PIM in Ambunti, with his wife, around 1978.
Back in Hagen, life has been rather busy. Sharon has been juggling opportunities at Balimo (a hospital that hasn't had a full-time doctor for about 20 years), Rumginae, at the Lapilo Medical Centre (New Tribes Mission Centre), and at the Kikori hospital in Gulf Province, providing doctor coverage. In the Maintenance Controllers Office, Andrew is enjoying the paperwork battles necessary to help keep MAF flying operations efficient. May and June have been very busy months with over 500hrs flown each and had lots of maintenance puzzles to solve.
 
Image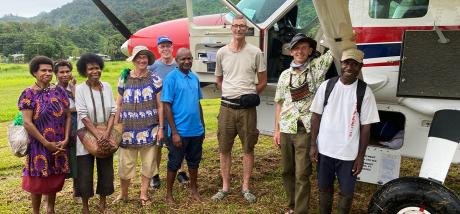 Sharon and Andrew Campbell