Image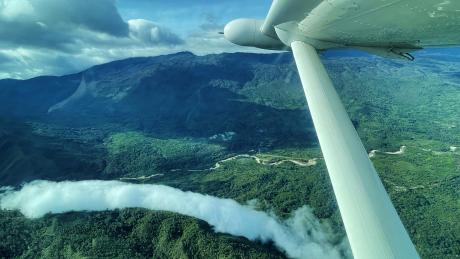 Mandy Glass
What a beautiful office window our pilots can look out at when they are flying! Papua New Guinea's landscape is just beautiful!
But this mountainous terrain means that people living there rely heavily on MAF's air service for basic infrastructure and service delivery.
That day, at the end of June 2022, MAF pilot Mathias Glass (MSG) took off from Mt Hagen with a shared load of passengers and trade store to Simbai, continued to Dusin, taking passengers on board there too. While on the ground, Mathias opened his Bible Box and could sell a few at each place.
Then off to Kompiam he went to pick up passengers back to Mt Hagen. All seats were occupied now and originally this was it for what was planned for him to fly that day and he was looking forward to having half a day in the office to fly his desk, catching up on paperwork, and getting some training reports written from the week before. But no; he needed to keep flying! And weather-wise it was actually a beautiful day with lots of sun and blue sky. But also a lot of wind and very bumpy at stages…
Outbound from Hagen again, he needed to fly two passengers to Yenkisa. One of the passengers was an old man who wanted to go back home for his final days on this earth. The hospital couldn't do anything more for him… The plane was loaded to the maximum with a full load of freight, mostly store goods for a local business owner.
In Yenkisa waited a young mother who just had given birth but wasn't feeling well and the local health worker asked for a transfer to Kompiam hospital, a comfortable 12 minutes flight away.
But at Pyarulama was another mother in need of a flight to Kompiam too. She had a retained placenta, which is life-threatening if not attended to. Each of these young mothers was accompanied by a friend who took care of the baby during the flight and consequently of them while at the hospital.
Mathias' paperwork and training reports stayed unattended yet for another day. Normally, paper is very patient. However, when a patient needs help, a day, sometimes even hours, makes a life-saving difference, and then there's no question about what the pilot or MAF should give priority to. We are here to bring help, hope, and healing in the name of Christ. That's what drives us!