Image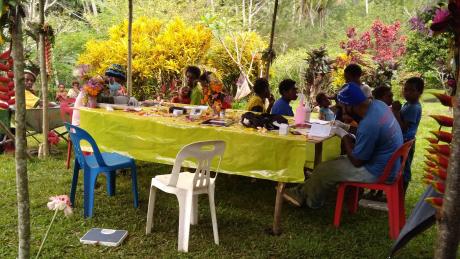 photo credit Etep Hospital
"The 2021 MAF Morobe Clinic Patrols, supported by Aid from the New Zealand Government, have touched many lives in the rural communities of Kabwum District where access to quality health care is very rare. Given the geography of Kabwum, the cost of seeking basic health care for a subsistence farmer not only causes an extra burden on the family but pushes them beyond the poverty line," shares Bradley James Apul, Health Extension Officer at Etep Rural Hospital in Morobe Province.
Mr Apul continues: "The Morobe Clinic Patrols have facilitated, helped, and saved several lives last year and we look forward to tackling obstacles, challenges, and limitations together to make sure we maintain and sustain this program to continue delivering quality health care to the rural majority in Morobe, Papua New Guinea, in 2022 and beyond."
MAF's renewed partnership with Lutheran Health Services
The last week of April 2021 saw the launch of a renewed partnership with the Lutheran Health Services in the Finisterre Mountains in Morobe Province. MAF PNG committed to another regular aerial health patrol project in the northeast of mainland PNG out of Wasu. Wasu is the airstrip connecting the Etep Rural Hospital, run by the Lutheran health Services. The hospital is nestled uphill from Wasu airstrip and is serving a population of 150,000 people in the area.
Below, Mr Apul is looking back describing the impact the 2021 health patrols had on the remote communities. He also gives detailed insights into the setups of basic remote health care and the challenges faced by the hospital.
Image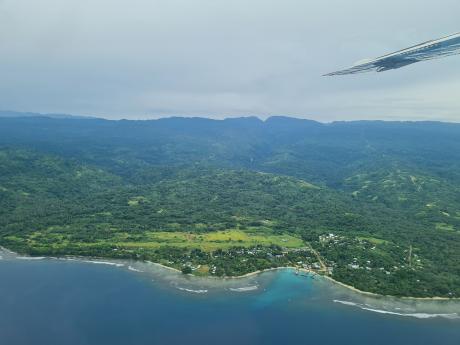 Photo: MAF Archives
Wasu airstrip near the shoreline with the Etep Hospital located on the hill on the right, about a 30 minute drive away
Melissa* Can Walk Again – A Story of Life-saving Treatment
3-year-old Melissa came with her mother and small sister to Sapmanga sub-health centre on our second patrol visit in June. Their village is a day's walk to Sapmanga. They had walked a day, slept with relatives, and arrived at the clinic the next day.
Melissa had developed swelling on the left thigh for about three months. She has been receiving intermittent antibiotics from a nearby aid post, but the swelling persisted. Her parents thought the swelling would subside by itself and remained in the village since then.
In May 2021, an outreach team from the Wasu Clinic did a routine immunisation patrol to her village. They came across her and advised the parents to seek urgent medical care at Etep. However, the parents never visited Etep due to financial constraints on the logistics involved. Financial limitations are one of the major factors that contribute to late presentation and poor health-seeking behaviour.
However, the family heard about the first MAF clinic patrol to Sapmanga and came to the clinic at last. The parents stated that Melissa experienced reappearing fever, pain, and had difficulties moving around at home. When seen at the clinic, Melissa had an engorged left thigh with a sinus and puss oozing from the wound site. She experienced pain and discomfort during the examination. She was febrile, had an increased pulse, and appeared just very sick and uncomfortable.
We diagnosed Melissa with a case of osteomyelitis and referred her to Etep Rural Hospital on the next available flight.
Shortly after she came to Etep, Melissa underwent surgery at the hospital. Excessive puss discharge and bony tissue were removed from the infected limb. We also found out that due to the extreme pressure from the pus and infection, Melissa had developed severe bone infection with a mid-shaft pathologic fracture.
At the time of discharge, Melissa was delighted to be able to walk again. She can now happily take a shower herself, play with her sibling and showed a positive behavior in her interpersonal relationship with her parents again
From Etep, Melissa and her parents travelled back via dinghy along the shoreline. From there they had to walk a further 6 hours along the beach to their village. Melissa's father had arranged their repatriation back home due to lack of funding at Etep Rural Hospital.
Last year, besides Melissa, the clinic patrols have reached hundreds of lives in the remote outskirts of Satwag, Indagen, Yalumet and Sapmanga of Kabwum District.
* the name of the girl has been changed to protect her identity
Image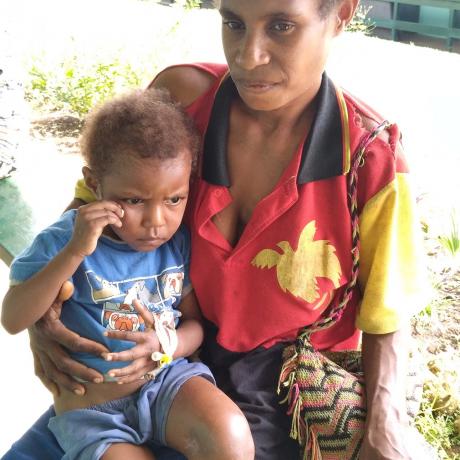 Melissa with her mum before surgery at Etep hospital.
The Patrol Teams
Most cases seen by our patrol teams were of chronic musculoskeletal pain, upper respiratory tract infections, urinary tract infections, sexually transmitted infection and pelvic inflammatory disease,  presumptive tuberculosis, suspected cancers (mouth and tongue), umbilical hernias, and antenatal mothers
Teams going out include Community Health Workers (CHW), Nursing Officers (NO), Health Extension Officers (HEO), Resident and Medical Officers (RMO's/MO's) at Etep rural hospital as well as CHW's from the Wasu Sub-Health Centre.
The patrols were organised as two sets of flights per week to two designated airstrips which included a 4-man team (1 HEO, 2 NO, 1 CHW).
The Set-up of Remote Health Care Facilities
Yalumet and Sapmanga
Yalumet and Sapmanga are only accessible by air. From Wasu it is less than 10 minutes by the MAF plane to Yalumet and from there another 10 minutes to Sapmanga.
Sapmanga has four CHWs and two volunteers who have basic training on diagnosis and treatment of common diseases. They can prescribe and dispense medication as well. All are trained to assist normal delivery, basic wound suturing, and dressing.
Sapmanga operates as a day clinic, however health workers attend to deliveries as needed. Emergencies and complicated cases are referred to Angau via Manolos Aviation. A new wing was constructed for general and obstetric ward but is still yet to be completed.
Yalumet has a Sub-Health Centre, meaning that there are 4 CHWs and one nursing officer who run the facility. The facility is open from at 8am to 4pm, evening and night shifts depend on case presentation and who is available at the facility to attend. The Sub-Health Centre has four buildings to accommodate family health services, an outpatient clinic, an obstetric ward with a delivery room, and a general ward with eight beds.
In 2021, we were able to partner with MAF for 4 clinic patrol flights each to Sapmanga and Yalumet. From Sapmanga we airlifted 3 patients to Etep Rural hospital for further – life-saving – treatment: two patients with acute appendicitis and one with osteomyelitis as shared above.
Image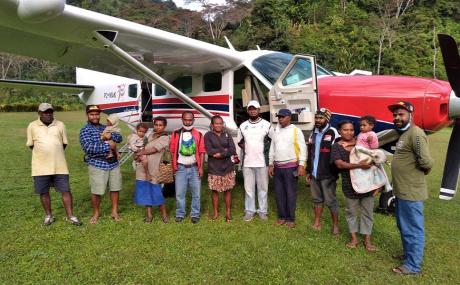 Yalumet health centre staff with the Etep team at Yalumet airstrip in front of the MAF aircraft P2-MAK on 10 July 2021
Satwag and Indagen
The Satwag and Indagen health centres were visited three times each. It takes a 7-minute flight from Wasu to Satwag and a 4-minute flight to continue to Indagen.
Satwag is an aid post managed by a CHW and two volunteer CHW students. It is run as a day clinic. However, the health workers are a flexible in managing and treating cases. The facility is accessible by bush tracks and partly connected by road which is separated by a deep ridge between Satwag and Kabwum. Complicated cases are either carried by foot for a 6 hour walk to the nearest road to be referred to Kabwum health centre. These cases are then referred from Kabwum to Etep for proper management and treatment. Otherwise, severe cases are airlifted via Manolos Aviation or North Coast Aviation to Lae.
Satwag was closed until we visited due to tribal clashes between a patient's relatives and the health worker from Satwag. As per the CHW, he referred a patient with liver pathology (most probably liver cancer) from Satwag to Etep. We saw the patient at Etep, and he already had end stage hepatoma with a poor prognosis. The patient died after return to the village (Satwag) and his family and relatives ended up assaulting the CHW and his family. Otherwise, we didn't come across any other law and order issue during our visits.
Indagen is also a Sub-Health Centre and has facilities for an outpatient clinic and family health services, a labour ward, and a general ward. Medical, surgical, and obstetric cases are managed at the facility, including immunization and family health services. Again, complicated cases follow the same referral pathway as in Yalumet to Lae by Air or by road to Etep.
Road travel from Kabwum Station means at least four hours of a bumpy ride over unsealed bush roads, getting stuck in mud puddles, etc. and always depends on the road condition and rain period. The road stops at Konge Station and would take another hour's walk to reach Indagen.
Image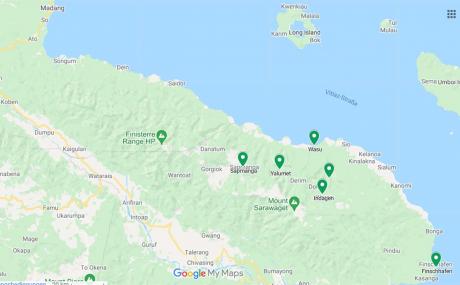 Morobe Clinic Patrol - map of airstrips visited in 2021
Challenges of the Clinic Flights  
The most significant challenge faced during the program were limited human resources at Etep hospital, which caused a shortfall in the clinical roster for shifts. When staff is pulled out for patrol flights, the clinical care and output at the hospital are affected negatively.
Funding has been a major challenge for the Lutheran Health Services this year, up to the point that we had to close our hospital for 5 weeks. Allowances are left out because of the budget deficiency of LHS, thus most staff are attending voluntarily. This also affected the projected patrol flights. Otherwise, we would have done two more visits to remote communities such as Derim and Tapmange.

We also learned that extra medication needed to be ordered because of the increased demand during outreach. As Etep Rural Hospital serves as the major referral centre for Kabwum District, we have a higher demand for medication dispensing. Etep Pharmacy also serves as the main dispensing pharmacy for the five aid posts in the Wasu Local Level Government. Therefore, the demand for daily drug dispensing is high. We would have to place push orders to Morobe Area Medical Store on extra medication to meet the shortfall created during outreaches. In theory, we'd receive our drug supply from the Area Medical Store every 2 months, however, due to delays in funding release from the government, it usually takes 3 to 4 months for medical supplies to reach Etep.
Vaccine supply for routine immunisation is usually coordinated with Regional Family Health Services and Etep Family Health Services and is carried out quarterly.
 
The Benefits of the Clinic Flights  
Part of our clinic patrols are the teaching of updated treatment protocols and procedures and supervising our remote-based health workers' clinical knowledge and competency in treating and managing cases. For example, teaching CHWs on how and when to use artesunate injections in severe malaria cases instead of artemether injections.
It really helps to improve the people's livelihood if our local staff does minor surgical procedures. It minimises the cost of seeking health care at referral hospitals, etc. 
The timely referral of patients with severe medical and surgical conditions to the hospital has often a life-saving impact. The three critical cases which have been airlifted via MAF to Etep were worth it!