Image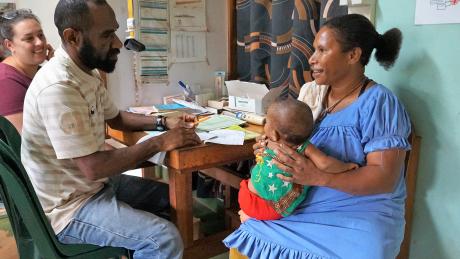 Mandy Glass
One young mother bought her baby to the clinic with a terrible infection all over his scalp

. As the conversation was all in 'tok ples' (local language) and as I waited for the clinic staff to translate for me, I got confused as the mum walked out of the clinic. 
I then learned that the clinic actually had the medicine in stock but they would need to admit the baby to stay for five days of IV treatment. Although they could treat the baby, the mum had bought no food or supplies with them to cater for such a 5-day long stay. They had no family in the nearby area and had trekked too far to quickly collect items from home and come back. Because of this, the young mum had left to trek the many hours back home without the treatment her baby needed. The staff told me although they had told her they had the medication if she wanted to come back at a later date; the mum had made no comment and left the clinic.
Image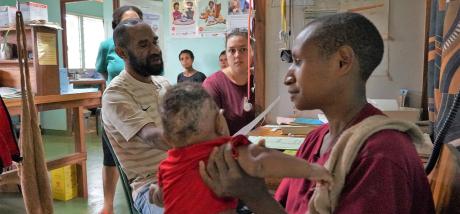 Mandy Glass
I Am A Nurse After All...
Mougulu is a small village in Western Province in the Strickland Bosavi area. I had often bought groceries for the missionaries who live there and fundraised for items for the high school projects, although I had never visited. Finally, at the end of July, an opportunity opened up for me and my 7-year-old son to spend a few days visiting the local missionary.
The main reason I always wanted to visit Mougulu was to check out their clinic. I ended up staying there on and off for the next three days. The three clinic staff showed me anything and everything. They were happy for me to do assessments with them and to translate the conversations with the patients from the local language to Tok Pisin so I could understand. They were open to any of the many questions I had. 
Mary, one of the health care workers, let me assist with an antenatal assessment clinic, checking the pregnant mums. 
Mary is the first woman from Mougulu to go out and get an education as a Community Health Worker (CHW). Although this is very rare, almost rarer is that she then came back to work with her own people group in such a rural location. She could have stayed back in the highlands with much better infrastructure and access to care for her young family. Both, she and her husband Gideon,  the Nursing Officer for the clinic, speak the local language, which makes things much easier for patients. 
Image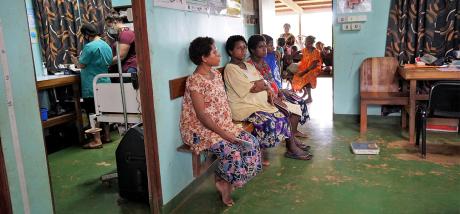 Mandy Glass
Image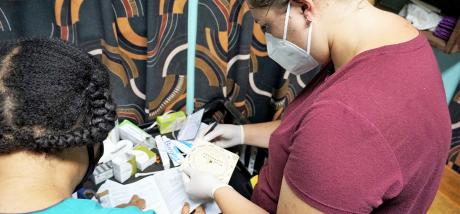 Mandy Glass
Malaria Mayhem
While I was in Mougulu, the staff were in the middle of treating a malaria outbreak. Just a few weeks earlier, they had only gotten some medicines, thanks to Rotarians Against Malaria and MAF helping with the logistics on this last leg to Mougulu. People were dying of this treatable disease because of the lack of access to the drugs they needed. 
On the days I was in the clinic, the staff was able to treat the malaria patients. Unfortunately, they only had half the treatment for mixed malaria infection, meaning that it was only treating one type of malaria. Even Panadol was in short supply. The staff told me that although they would feel a little better, the patients would be back in as little as a week because their mixed infections hadn't been fully treated. The medicines had been sitting in Kiunga waiting for a MAF plane to have space and good weather to get it from there to Mougulu. 
During my stay, three boxes of much-needed medications actually arrived on a MAF flight. They were immediately unpacked, and the meds were stacked in the clinic's store room. Who knows how long they would last... But for now, the clinic staff could fully treat the mixed malaria infections. 
Image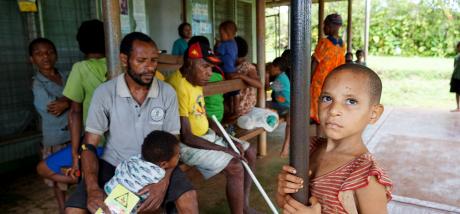 Mandy Glass
But Where Are The Medicines?!
The clinic's medical supplies and medicines come through a national government arrangement. Unfortunately, they often do not reach the communities they are intended for, especially those in very remote places. The Provincial Health Department receives the medicines from the nationally appointed contractor and the national health department stores. However, this isn't working. Recently, the provincial health team responsible for Mougulu had to actually fly to Port Moresby to pack their needed medicines. 
Image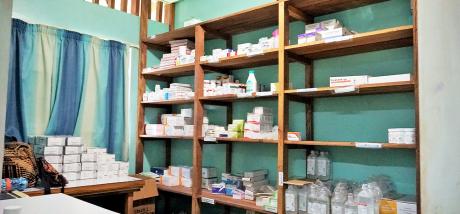 Mandy Glass
What Makes This Clinic Different?
What makes the little Mougulu clinic extra impressive is that the surrounding villages all have aid posts but no staff; and should they have staff posted there, they have no medicines. This means people walk from hours and hours away to get helped by the Mougulu clinic. Medicines are allocated to each rural clinic based on your village population (from a very outdated census). Not only is the population of Mougulu's clinic's catchment area much bigger than previously recorded, but because people are also trekking in from surrounding areas, several months of medicines only last a matter of days, maybe weeks.  
I constantly observed the clinic staff assessing and diagnosing patients, only to then say, "Sorry, we don't have any medicine in stock for that." I can't imagine what that would be like as a health care professional to constantly have people come to you, knowing exactly what they need to get well, and having to send them away with nothing but a prayer and some DIY advice. It was inspiring and humbling to see these three local health workers keep on keeping on, steadily doing their job as best they could with what little they had and not letting the hardships get to them.
Image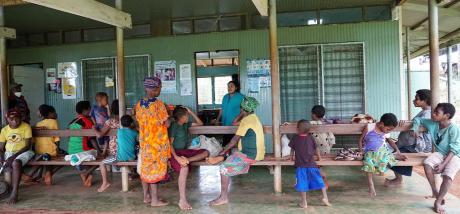 Mandy Glass
She Walked How Long While In Labour?!
I got to assist Mary in my first PNG baby delivery in the Mougulu clinic. A healthy little boy! 
As expected, the mum looked exhausted after the birth. I nodded to Mary as the mum fell asleep acknowledging how tired her body must be. Mary told me, "Yes, she is exhausted, but it's because she had felt labour pains around midnight, and then had to trek three hours in the dark while in labour to reach our clinic to safely deliver." I also learned that she had complications with excessive bleeding during her last birth, so to ensure she and the baby were safe, she had come to the clinic to give birth. 
Can you even imagine being in that scenario? I am constantly amazed at the dedication and strength of the women and mothers in Papua New Guinea!
 
Image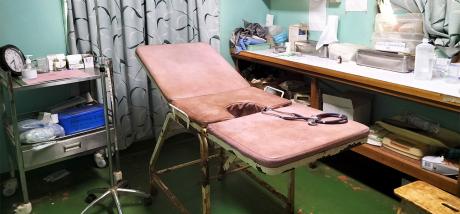 Jessica Hunt
Many Hands Make Great Work
I only stayed three days but got a really good feeling for the clinic. I was also able to discuss what would make life easier for the clinic workers. We came up with a list of basic assessment tools that the clinic needed that I could fundraise for. 
Before the week was up and as people saw the snippets I posted on social media, enough funds came in for every assessment tool needed - things as basic as pregnancy tests, stethoscopes for each of the four clinic staff, blood pressure machines, even a fetal heart rate monitor for the antenatal clinics.
. 
We were also given enough funding to start and stock a small trade store operated out of the clinic to provide hygiene items for the patients. This funding already covered the MAF plane's freight costs for the first shipment of 30kgs of soap and cloth nappies arriving within 5 days of me leaving Mougulu!
 
Image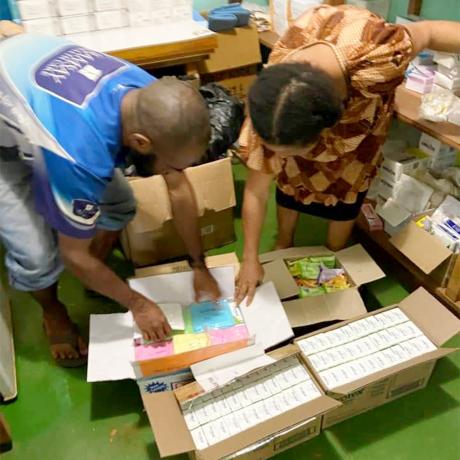 Sally Lloyd
What Comes Next?
A huge problem in these remote areas is access to simple items such as soap. So, together with me in the city to purchase these items and arrange freight, the clinic and I plan to work together to keep these items regularly stocked for the visiting patients. I'm so grateful to the clinic staff, who are already so busy and have so much responsibility but are willing to put even more effort into their community to serve them. Between them and the local missionaries in that area, I have complete confidence as to the management of this little venture! 
There are a few local people who also sell some trade store items - mostly instant noodles, chicken stock cubes, crackers, and rice. The clinic's for-sale items are priced so as not to undercut those sellers and will be limited to hygiene items only. Any profit made goes back into the clinic to purchase additional examination tools or for maintenance of the clinic.
'Til The Next Time!
Looking back, it was such a special trip - to work with the local clinic staff, establish those relationships, and use the generosity of so many people back in New Zealand to make such a huge impact on this community. I am so grateful for the many people who invest in this community!
I'm looking forward to working with the clinic in the future, maybe visiting them once a quarter for a few days as time and flights allow.
Image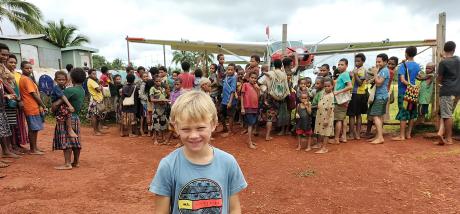 Jessica Hunt