Image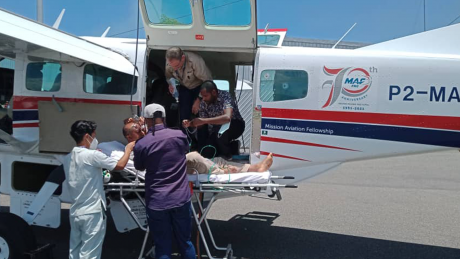 Joseph Tua
PNG is known as the Land of the Unexpected. But living here, we know to expect the unexpected. Just because it happens regularly. So this Saturday morning, when the phone rang, nothing was going as planned - but the outcome was worth all the hassle!
It was Saturday morning the 19th of March. It had been a long week with many very early mornings and late nights. 
Connie and I were moving a bit slowly on this particular morning. I had just stepped out of the shower and was headed to the kitchen to make some coffee for the two of us (I try to give Connie a break and handle the weekend coffee.) It's a ritual we have each morning, sitting together in our chairs in the living room, reading our bibles and spending quiet time with the Lord, gathering the strength for another day. 
The ringing of my phone interrupted my thoughts. I glanced at the Caller ID, Dr. Ben Radcliffe from Kudjip Nazarene Hospital. With Dr. Ben calling at this hour on a Saturday morning, I had a fairly strong feeling that this day was going to be quite different from what I was expecting. But then, that is our motto for PNG. The Land of the Unexpected! And that is why we are here...to serve!!! 
The call for the medevac
And so it was. Dr. Ben quickly relayed to me the situation, that of a national team member suffering a life-threatening emergency during the night, necessitating a medical evacuation to the capital city Port Moresby as quickly as possible. There are no roads between Mt. Hagen and the capital city. It is a one-hour jet ride or a two-hour flight by MAF aircraft across the tropical rainforest of this rugged island nation. 
And so... plans were put in motion! 
But I would like to now transition to a social media post by our PNG National Pilot, Joseph Tua (Initials JET), and let him describe the day...
 
Getting ready!
Woke up at 7 am and had a cup of coffee and the weather was absolutely beautiful outside and we thought "What a nice day to fly!" 
And then the phone rings and it's our Country Director... "Joseph, are you checked out on the Hagen - Moresby Route?"
"Yes sir, I am"
"How soon can you get the plane ready? We have a medevac patient who suffered a heart attack at Kudjip hospital and needs to go to Moresby right away"
"I'll have the plane ready to go by 8.30am sir"
"Good. They'll be here at 9am"
And boom! We scrabble into the shower, grab our overnight gear just in case... Headset... Water... EFB... Phone... Etc., etc., and off we went to the airport!  
We were ready to go by 8.30 am...
Image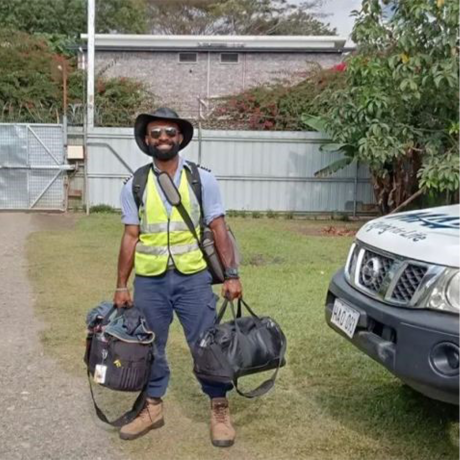 Joseph Tua
Patient and doctor arrived at around 9am. Loaded them all up, strapped the patient down as comfortable as we could. And off to Moresby we went. It's a 2-hour flight and the weather was great the whole way 
PIH ambulance was already there waiting. We transferred the patient from the plane onto the stretcher/bed that PIH had brought and basically handed over everything to them. We returned to Hagen with no issues. Weather was absolutely beautiful! Thank you to whoever was praying for this flight!  
Totally Worth It!!
We got a message just around 6.30pm that the patient received whatever care and attention he needed and was stabilized at the PIH ICU in Moresby. Totally worth it!  
Thank you for the continued prayer and support fam! Have a great weekend! 
Reflecting on the day
This was an awesome day. I had the opportunity to fly with Joseph on this flight and work side-by-side with this incredibly capable and competent young pilot. It's hard for me to explain how proud I am of this young man who willingly forgoes the lure of greater money and fame to pursue to the call of the Lord to serve his people here in Papua New Guinea, flying with MAF. 
JET (as we affectionately call him) is also a great writer and frequently posts of his experiences "Flying for Life" here in PNG. If you would like to live life through the eyes of one of our pilots, I would encourage you to follow him on Instagram. 
https://www.instagram.com/tuaflyingforlife/
 
Story by Todd Aebischer, Country Director MAF Papua New Guinea