Image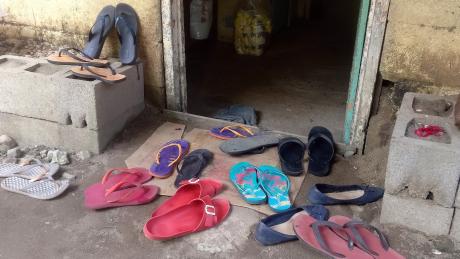 Harriëtte Knigge
"The most rewarding thing for me is the smiles on the faces when I walk into the prison. They know I come every week. These ladies give me so much, so much love. This is just so rewarding."
Connecting with People beyond the Compound Fence
For about 3.5 years, Harriëtte and her family live in Wewak, one of MAF's outstations. Her husband, Wilfred, is a pilot. They are from the Netherlands.
Harriëtte's days are usually spent homeschooling her two boys and managing the family's life at home - to enable her husband to be out all day to fly our aircraft serving the remote communities. Being a mum, a teacher, and a family manager takes a lot of Harriëtte's time and energy, demands flexibility and comes with missing family and friends back home.
Image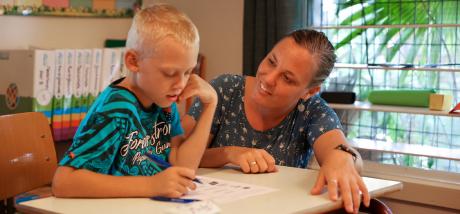 Annelie Edsmyr
Nevertheless, Harriëtte can say that "to work for MAF is such a rewarding job. Sometimes, we may not see it because we miss family and friends and it's not always easy. But to help our brothers and sisters in Christ makes up for it. Maybe they don't know Christ yet, but they will get to know him. And that is the reason we work with MAF and why we are here in PNG."
While Harriëtte's husband has his flying job with MAF, she likes to get out of the compound too, likes to connect with people, sharing life and her faith with others. 
Harriëtte started and hosts a bi-weekly Bible study to meet with other ex-pat women involved in various ministries based out of Wewak. The ladies are coming together, encouraging each other through Bible studies, and praying for each other.
Image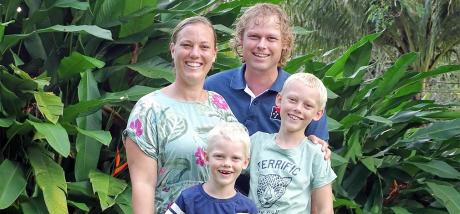 Harriëtte Knigge
Giving Back to the Community
Harriëtte also wanted to give back to the community and wanted to make an impact in this country. She shares, "I was looking around for options and then one of my missionary friends shared she was regularly visiting the women's prison." 
This sparked Harriëtte's interest and so, since 2019, the weekly visits to the prison are fixed in her schedule.
This prison ministry got established by the Evangelical Brotherhood Church (EBC), and over the years, missionaries from Liebenzell Mission and MAF joined and continued those visits.
Image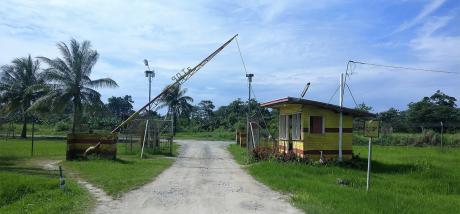 Harriëtte Knigge
Understanding Each Other
"We go every week to visit the ladies," explains Harriëtte. "One week is for religious instructions, RI, and the other week is more a rehabilitation program. 
"In RI, we memorise Bible verses and talk about bits and pieces from the word of God.
"For rehabilitation, we try to look at the past and the future. We've done a trauma healing course with the women, and I am currently teaching some conflict management skills. We also want to look at the future: what is important for them. How could they make a living later on? We teach them how to make banana cakes and jam. And there's the general question: what could they do in their community? Or what could they do to help other ladies who are in a similar situation? We are working on self-love, self-respect, and courage to reach out to others in need.
 
"I share with them that I too, miss my family and friends. And they understand. They also miss their family and friends. 
"It's really beautiful to see how they make the most out of life no matter where they are, no matter the circumstances that they are in, they still make the best out of it, and they make time for each other." 
Image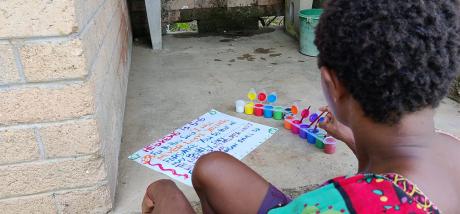 Harriëtte Knigge
Image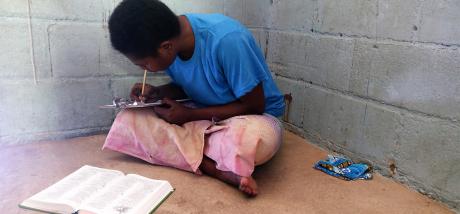 Harriëtte Knigge
Dutch Pen-pals as a Literacy Project
"Currently, from those 10 ladies, eight can not or do not fluently read and write. Their literacy level is very limited. So, we are helping them with some Tok Pisin materials to learn how to read and write in these rehab weeks. 
"To help the ladies with literacy, we started a pen pal letter project with ladies in the Netherlands. I found some Christian ladies online who are willing to write letters to the ladies in prison here. They do it in English and we translate it into Tok Pisin. Then we help the ladies here in prison to write something back. It's a really good practice in reading and writing, but it's also very encouraging for both groups just to share life, share their favorite Bible verses and things like that."
Image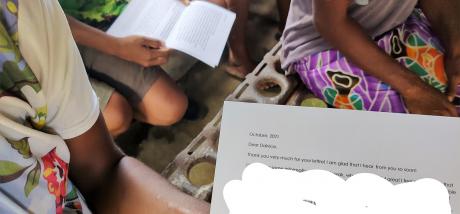 Harriëtte Knigge
Taking Light into a Dark Place
"The reason that we visit these ladies in prison is that we want to bring light into a very dark place. We want to bring them love, not our own love, but God's love. We want to show them that whatever happened in life, they are loved and are daughters of the almighty God. 
"After their time in prison, there is still a whole life to live and we want to give them hope. Every week when we come, we start with a prayer, asking what can we pray for? Of course, they miss their children, and they often ask for prayers for their court cases. So, yes, we pray for that. 
"We just share life. And it's really, really nice to just go there and be available and share the love that we get from God with them."
 
Image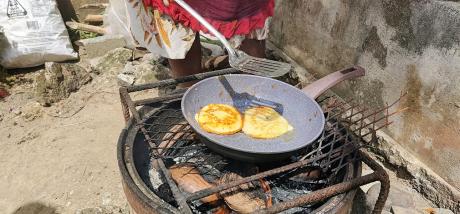 Harriëtte Knigge
Ladies, what shall we do next week? Shall we cook something? The women in prison voted for pancakes. Outside, on a wood fire, we tried a new recipe: mixing an egg with 1 or 2 bananas and a little bit of baking powder. Delicious!