Image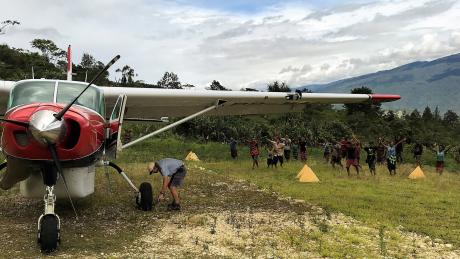 Richie Axon
Wilfred Knigge has opened a runway for the very first time in his career as a MAF pilot. He landed on an airstrip where no MAF plane has landed before. Wilfred, together with colleague Richie Axon, landed at Wetap on 17th June 2022. 
As the plane landed, the people immediately came running as Richie and Wilfred got off the plane. Overjoyed, they run to hug the pilots. 
The people in Wetap didn't know the MAF plane was coming for a test landing that day. Communication with this community is still challenging, with the HF radio not yet installed. People need to hike to a mountain to receive network services. 
Image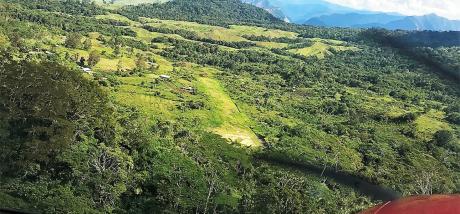 Richie Axon
Flying crosswind at Wetap looking towards the approach
Safety first
Richie shared, "We kept briefing one another that if we weren't happy with anything, we'd just give a landing away. No new airstrip or first landing is worth pushing it and having an accident. We got there in the middle of the afternoon, and it was really nice weather. The wind was not too strong; the air was clear, no clouds around in the area. That gave us a really good opportunity to do a few circuits, both left circuits and right circuits, and try to figure out where the safe abort point was. We were flying various go-arounds to assess what was the best way to determine the circuit we recommend all pilots to fly. We had satisfied ourselves that we could actually fly a safe approach to the airstrip and first did a low-level inspection pass. With that, we were able to get a really good picture of how the operation would work in the circuit and then set up the plane for the first landing." 
 
Image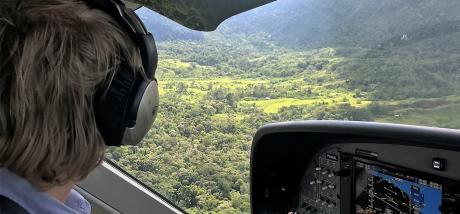 Richie Axon
Image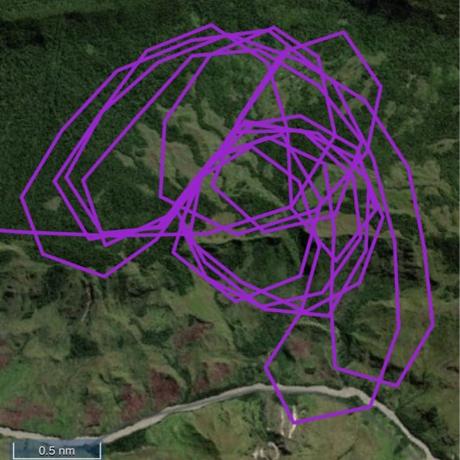 v2track
Joy on the Ground
Wilfred flew the first landing on this short 411 meter, but 11% steep airstrip. "It's a pretty exciting day for the people," continued Richie. "When we had landed and stopped in the parking bay, it was almost like they'd been watching the State of Origin match! They came rushing out, and while Wilfred was trying to get the chocks and the tail stand in the airplane, they nearly tackled him. He was surrounded by probably 15 or 20 people jumping up and down and a heap of other people standing a little bit further away from the airplane. 
"Then they noticed me," continued Richie, "and I had quite a crowd of people come running over to me and they nearly knocked me over too!"
Richie and Wilfred spent some time on the ground with the people. They walked down to the bottom of the airstrip and looked at the work the community had done to improve the airstrip, like digging more drainages. The pilots stressed to the community the importance of having the grass cut short.
"The people were really appreciative of us coming," highlighted Richie as he continued sharing about the day's events. "The Baptist pastor and the SDA pastor both gave short speeches to thank us for coming and opening their airstrip and conducting the first (MAF) landing."
Image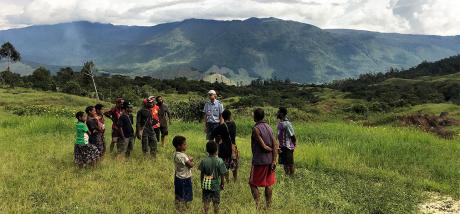 Richie Axon
Wilfred Knigge at the bottom of the airstrip talking to some of the villagers
Imagine the Impact
To have this airstrip operational is a really significant event for the community after all these many years of hard labour and waiting. 
Can you imagine that after so many years of hard work, suddenly a plane actually lands? 
Can you imagine that now people finally have a safe and convenient connection to the outside world (without hiking or boating for days)? 
Medical emergencies and patient transfer flights are now possible to fly people to a hospital. 
Now, food can be flown in, when the local produce isn't sufficient for a growing population. Or local produce can be flown out to market or to be sent to pastors or Bible school teachers and students in other places.
Students can further their education and will be able to fly to boarding high schools such as nearby Oksapmin or Telefomin. 
Now, service providers can come, like medical patrol teams, pastors or missionaries.
"The villagers undertook this project with zero funding from the government or elsewhere in any kind, except purely with the strength and might bestowed in them none other than by their creator," wrote Shedric Bisapen, one of the Community Leaders, in his initial message to MAF PNG back in May 2019 sent via Facebook Messenger.
Image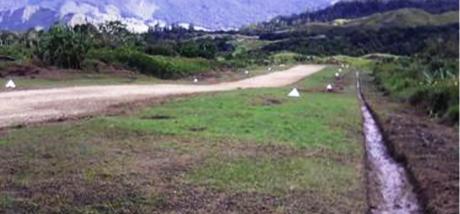 Shedric Bisapen
Image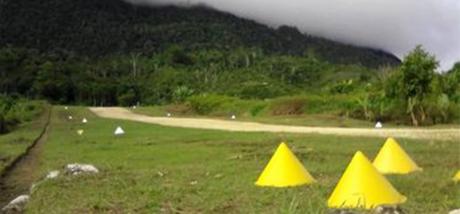 Shedric Bisapen
Image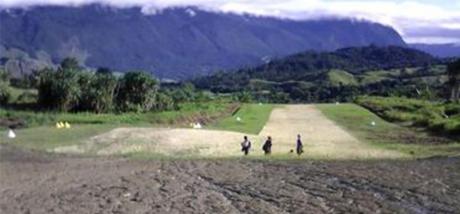 Shedric Bisapen
Photos from Wetap airstrip as it looked in 2019
The long Waiting 
Four years ago, in May 2018, a team from the Rural Airstrip Agency, RAA, had flown into Wetap by helicopter to conduct an airstrip survey of the newly built airstrip. According to Mr Bisapen, the community started working on the airstrip in 2016.
"... We have by then undertaken accordingly as per RAA report and have fully completed the work," continued Mr Bisapen's inquiry with MAF. "The strip is ready for re-testing. I therefore humbly request the management to reconsider and organise a flight this week or next week for an aerial survey or possible test landing. This is to give hope to these rural villagers, who struggled over the years, to know that their hard work pays off in end."
The people had to wait three more years though, to see the first MAF aircraft land at their doorsteps. The global Covid-Pandemic resulting in no or only limited flight operations as per CASA PNG's restrictions, new airstrip standards, and safety measurements from within MAF International and MAF Papua New Guinea, really stretched the time to respond to the community's hard work in a timely manner.

Only in March 2022, RAA personnel and MAF pilots Ryan Cole and Richie Axon went into Wetap by helicopter for a final airstrip inspection. Early June, the survey reports were cleared, and a test landing was approved by MAF PNG's Flight Operations Manager. Pilots Wilfred Knigge and Richie Axon were tasked to do the test landing together as a risk mitigator (two heads are better than one!). Also, Richie was familiar with the airstrip having actually been there. Another risk mitigator was to take the aircraft into Wetap without cargo or passengers.
Image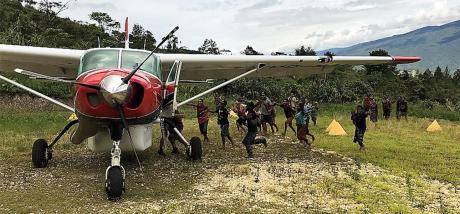 Richie Axon
New Hope has arrived
With Wilfred and Richie finally landing a MAF plane at Wetap, new hope has arrived! The possibilities of having access to air service without trekking for hours to the nearest airstrips are unprecedented, and therefore, the people's joy is unprecedented, too. They howled and cheered. They ran towards the pilots, hugged them, and jumped around them-like after a team's win of an important rugby match.

Soon, MAF hopes to carry out its first operational flight, transporting goods and/or people in and out of the village. For that next flight, the people in Wetap will surely be more prepared for the landing-most likely the next pilot going in can expect an extensive welcome.

Until now, there are only a few iron roofing buildings at Wetap. For this, people carried the roofing iron from Oksapmin, which involves an overnight at Gawa, and then continued walking the next day to Wetap. According to Mr Bisapen, only some of the energetic men are able to traverse the terrain with cargoes straight to Wetap within about eight hours.
All for God's Glory
On the evening of MAF's first landing at Wetap, MAF received a thank-you message from Mr Bisapen, "For all to God's glory. Thanks to the dedicated and committed missionaries who work for God to serve and save the people by reaching out and touching the lives of thousands in many ways. On behalf of my humble community, I praise God for prayers answered. Last Friday afternoon, I received a call from home. In the background, I could hear the noise of the aircraft and people dancing and celebrating in emotions. I shed tears on the phone with the caller and my heart filled with joy and satisfaction. I felt satisfied that all our hard work has finally paid off.

"My special thanks to all the line of officers from Operations to Communication, especially to the individuals I have communicated with so far for the airstrip. You all have been very helpful to me. That's why I have a reason to smile, and I hope you will too. You all worked for the good of our people. I can't wait to fly home soon. To God be Glory. Congratulations to the duo captains who went into Wetap. You made me proud. Well done. God will continue to bless MAF and its operations."
 
Image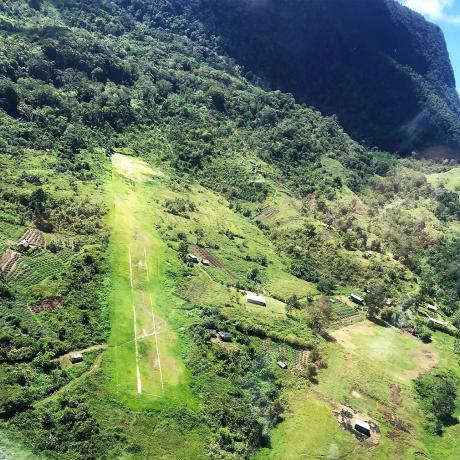 Richie Axon
Wetap airstrip surrounded by a few houses and gardens