Image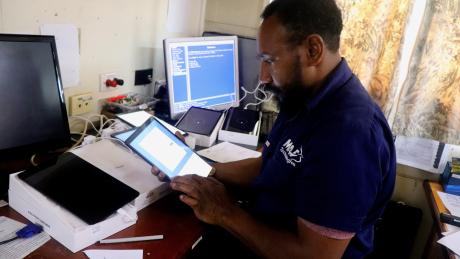 A Photo By Kowara
Technology is speeding up the process for translating the Bible into native languages of Papua New Guinea. 
 A Story By MAF Technologies, Kowara Bell
Communities in Papua New Guinea are receiving the Bible in their heart language for the first time, thanks to innovations that are speeding up the work of Bible translators.
This exciting new era means that MAF Technologies can help organisations like Wycliffe Associates by updating software and apps on their computers and mobile phones that translators use in their work.
MAF Technologies Ministry Partnership officer Caine Ruruk revealed that so far MAF Technologies has supplied over four hundred translation kits to Wycliffe translation teams across the country, allowing them to translate various local language Bibles.
"Basically, for MAF Technologies, we are helping in fast tracking the process of Bible Translations by lending hands to the Bible translators through supplying appropriate Technology for National Translators or (TNTs) for efficient and accurate Bible translations," he said.
Image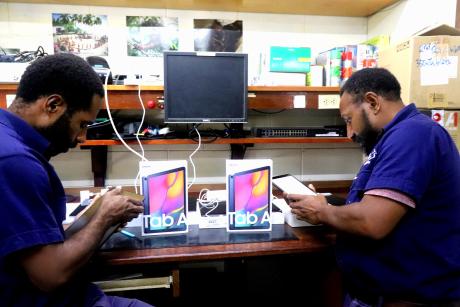 A Photo By
MAF Tech IT officers David. Inava and Ishmael. Doroware, installing Applications software into wycliffe translation tablets.
MAF Technologies, based in Goroka, is known to be the Asia Pacific region's sole media centre that sells audio Bible devices. MAF Technologies has Bible programs that are already translated into multiple heart languages as audio versions.
With the initiative, many people who only speak local languages, are blessed to listen to God's word. The audio Bibles also reach people who are unable to read.
Thompson Luke, a spokesman from the Kenain village in the Simbai area of Madang Province said that the initiative has enabled many older people who do not understand English and Tok Pisin to hear the word of God in their heart language via audio Bibles.
"Even though many of our elderly individuals are illiterate, they are fortunate to hear God's word through translations of our native Kalam language via audio Bibles. And we see that it has strengthened their faith as they listen to and meditate on God's word daily," Luke said.
Image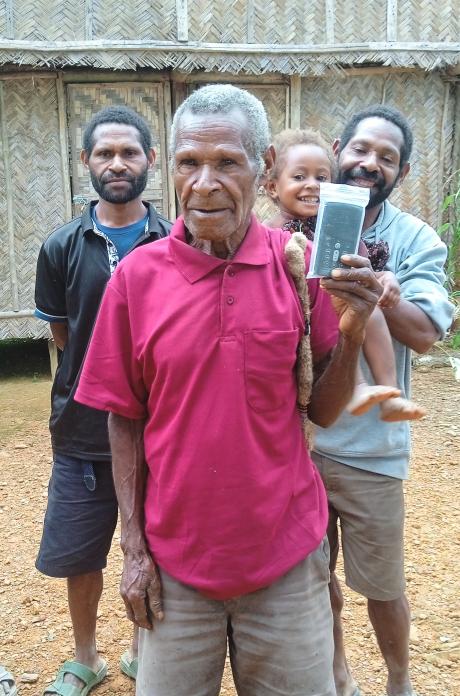 A Photo By Samuel Joseph
An elderly man from the Kenain village, Simbai area of Madang Province.
Meanwhile, Wycliffe Associates Highlands Regional Coordinator, Misson Ayabe, in a report reveals that seven (7) translation projects in PNG were successfully completed in a considerably faster and shorter period of time with the help of technology. "One of the notable achievements is the completion of our Tok Pisin Unlocked Literal Bible (ULB) version project and Its completion as a gateway language serves as a pivotal source text for ongoing and subsequent mother tongue translation projects in PNG," he said.
Working under the guidance and authority of local churches, Bible translation organisations such as Papua New Guinea Bible Translation Association (PNGBTA), Summer Institute of Linguistics International (SIL) and Wycliffe Associates liaise with MAF Technologies to create a pathway for the gospel to reach thousands of lives. Through the use of modern technologies, the work of translating the Bible into PNG's many heart languages is being completed at a faster pace.
John 3:16, in Simbai (kalam) Language, Madang Province.          
Gor biynimb mankumb biy maŋgiysek wasemb ay, Ñinuk nokom yimb ak kuyip nen aŋgiy yokek owak ak mey; biynimb nup gosimb niŋniŋgambay gok, kumiy ma kurginiŋgambay; nuk yip perper mindeniŋgambay.