Image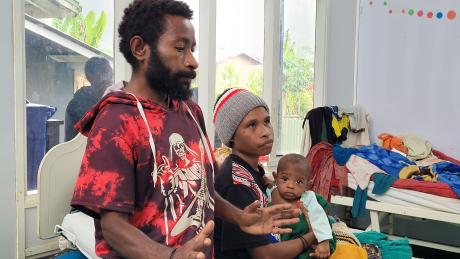 Ashley Leyenhorst
After a successful birth at Kompiam Hospital, a family of three contracted life-threatening diseases trekking back home.
Story by Tajs Jespersen
It took Samuel, Kelin and Bani three weeks to walk from Yambaitok airstrip back to their village of Kaiam.
"We started walking for three weeks carrying food and supplies and it was heavy, and we were carrying our child too," said Samuel, the father of one month old Bani.

The family had hoped to fly back to their home village of Kaiam, but heavy rainfall had made the airstrip unsafe and it had been closed indefinitely. Not knowing when they could fly home, they decided to fly to Yambaitok and walk from there to Kaiam.
"During the walk, Samuel and Bani fell ill with suspected tuberculosis (TB). Bani became so weak that he couldn't breastfeed," said Dr. Camy Thomas, who is a dentist at Kompiam hospital.
Tuberculosis is an easily preventable disease, but because of the struggles of getting healthcare out to the remote areas, many contract the disease each year. Samuel recalls the bad condition he and his family were in when arriving back to Kaiam.
"I felt weak and I lost weight because of the hard walk. My child too was getting increasingly sick." said Samuel.
Image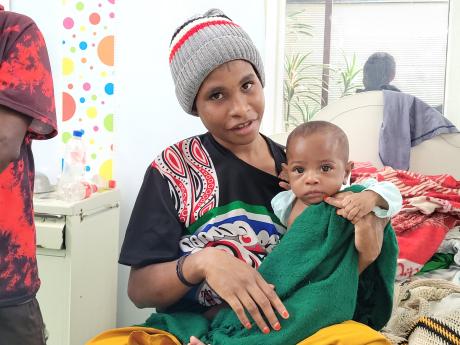 Ashley Leyenhorst
Kelin and Bani after their recovery at Kompiam
In Kaiam, the family had very limited access to treatment and their conditions were not improving.
"And so it happened that we sent our next medical team around that time to Kaiam," said Camy.
Samuel and Bani's conditions had worsened terribly when the health patrol arrived.
"They came and brought me to the clinic in Kaiam and our child too to stay for one day. They put a drip on my son and on me too," said Samuel. "My eye was very bad. My body, my head, arms, legs were shaking in pain and fear. I was so sick. The men in the village put us in the MAF plane and it took us back to Kompiam."
The two are now staying at Kompiam Hospital together with mom Kelin, where they have fully recovered. When given the opportunity to say thank you to MAF, Samuel did not hesitate.
"If there was no MAF I would have died in Kaiam," said Samuel. "But we have MAF and they saved my life. I joyfully praise our God together with my family."