Image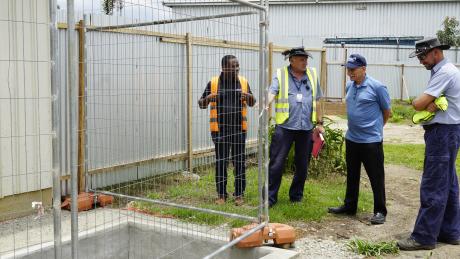 Ashley Leyenhorst
New technology overcomes sewage challenges at MAF's Kagamuga compound and provides opportunities for ongoing and long-term projects. 
Story by Ashley Leyenhorst
72 houses, as well as hangars and offices, make up MAF in Papua New Guinea. Property and Vehicle Manager Dave Moore oversees them. This includes the less than glamorous areas, such as sewage. 
"Sewage is the bane of any maintenance manager's life," said Dave. 
The Kagamuga compound is located near the MAF base in Mt Hagen. Recently a project has begun to provide new housing and event space for future families and conferences. The project presented challenges regarding sewage, as previous septic tank methods became less easy to maintain. 
Image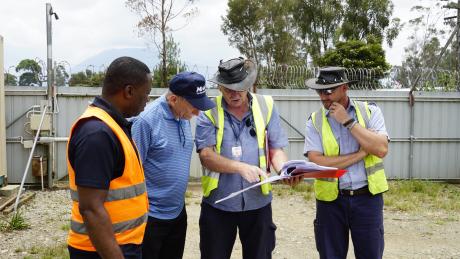 Ashley Leyenhorst
Dave Moore (right middle) showing new project plans to Regional Director Samuel Okposin (left), MAFI CEO Dave Fyock (left middle), and MAF Pilot Brad Venter (right).
"Kagamuga is particularly difficult because it's very, very heavy clay soil," said Dave. "With 11 houses there already, trying to find suitable locations for septic tanks and soakaways is very difficult."  
The solution to these problems came with new technology from Europe.
Three new bi-digestion systems were installed on the compound. The systems allow sewage to rot within three aeration stages and pass it along, allowing for easier discharge of settlement and, more importantly, water. 
"The clear water that comes off is clean enough to be able to discharge along with our rainwater from the site," said Dave. 
The system is likely the first to be in PNG and is not well-known in the area. 
"Our own plumbers and our plumbing contractors have never heard of such a system," said Dave. 
The bi-digestion system provides a long-term solution and requires little maintenance. The need to dig space for new septic systems is eliminated by the long-lasting system. 
Image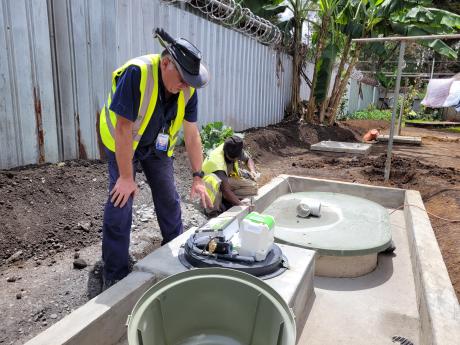 Ashley Leyenhorst
Dave Moore explaining the new sewage system.
The system is a sustainable solution as it leaves less waste to be removed and does not damage the soil by requiring clearances that septic systems and soakaways do. The system will help PNG in the move towards a healthy and environmentally friendly future. 
With plans to run the systems on solar power, there are further environmental and financial benefits. 
"Operating from solar means that we're not spending money to buy power for the sewage aeration," said Dave. 
The savings that MAF will receive will allow more funds to go into serving throughout PNG. With the ongoing housing project, the new system will also prepare the way for new pilots and families to join the program. MAF will be able to continue serving long-term throughout PNG with the assistance of new sewage technology.