Image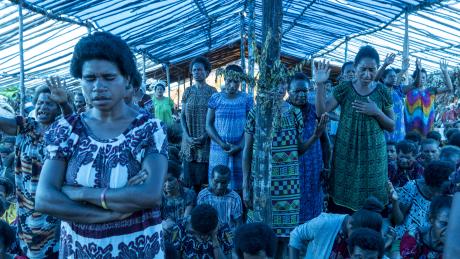 Photo by Mandy Glass
Thanks to MAF providing 20 highly subsidised flights, 170 women were able to fellowship with some 400 hundred others to receive spiritual teaching and encouragement at their churches regional women's conference.
Story by Mandy Glass
Every three years, the women of the Min Baptist Union come to together to re-elect their president and … This they combine with a huge gathering to worship God through songs, prayers and teaching.
This year's conference was hosted by Eliptamin, one of the 11 associations within the Min Baptist Union. Eliptamin is only accessible by foot or by airplane
A conference in the middle of the mountainous highlands with more than 500 participants. MAF provided 20 50% subsidised flights to bring about 170 women along with food to Eliptamin. Many more came on foot, some walking for several hours, others for several days, so important was this gathering to them.
First time participant, Livina Derit, from Drolingam near Telefomin, was encouraged by her husband to join the conference and was one of the 170 women MAF flew to Eliptamin. She shared that her husband sent her off with a prayer of blessing and release that morning.
Image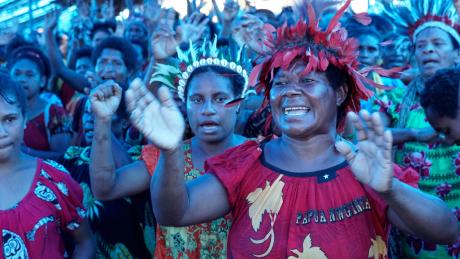 Photo by Mandy Glass
Livina Derit enjoying to praise God with the congregation
"I then walked to the MAF Base and boarded the plane with Captain Ryan who flew us to Eliptamin and now I can be part of this huge conference. We all have a great time listening to good teaching, learning Bible verses and what I've learned in the workshop I'll pass on to my children when I am back home."
The flight from Telefomin to Eliptamin takes about 7 minutes. Livina could have done the journey also on foot. "If I leave Telefomin about 7 in the morning, I will reach Eliptamin about 4 or 5 o'clock in the afternoon," she said.
Image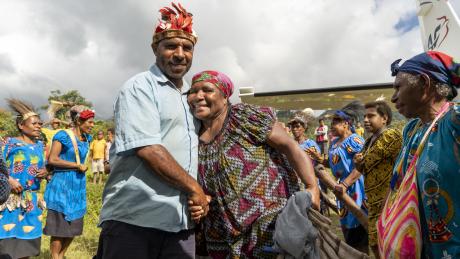 Photo by Mandy Glass
The three Telefomin pilots, Joseph Tua, Ryan Cole and Richie Axon were kept busy for 3 days each end of the conference to ferry those women from 12 different communities.
Richie shares: "I've done about four or five flights with eight or nine women each day."
They flown in women from Tabubil, south of the Hindenburg Wall and Tifalmin just on top of it, from Tumolbil, Ibil and Yapsi near the Indonesian border and Sepik River. Women were picked up at Mianmin, Duranmin and Gubil, villages within 5 to 10 minutes flight range from Eliptamin but all in different valley systems and hard to conquer for the elderly women; others from Wobagen, Bak, Tekin, Oksapmin further away towards the east and Strickland River area, and from Telefomin itself.
Image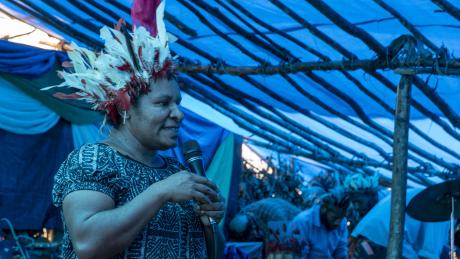 Photo by Mandy Glass
Guest speaker for the conference, Carolyn Wayne, who is Girls' Brigade Commissioner of Papua New Guinea really enjoyed the conference and highlights the importance of MAF's support.
"It was an amazing time together. MAF was able to provide 50% discount on seat fares for these 170 women that were flown in. They're so grateful to MAF for the service that they received."
In addition to daily prayer times, worship, and Bible studies, workshops were offered in microfinance, leadership, and health.
Image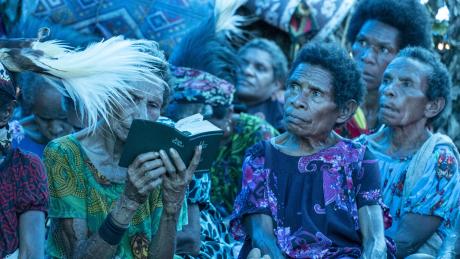 Photo by Mandy Glass
The re-elected president of the Min Baptist Union Women, Julie Firan, links the success of the conference to God's provision and MAF's support.
"The highlight for this conference is when we see all these ladies coming together, sharing ideas and sharing their faith. This conference wouldn't have happened if MAF is not here. The Lord, God, provided MAF for us to make it possible for the conference to be successful like this. And we thank God for MAF," Julie said.
Ryan Cole enjoys this kind of flying out of Telefomin supporting the local church. "We're here to help the local church. And just being able to do that out of Telefomin here is really satisfying."