Image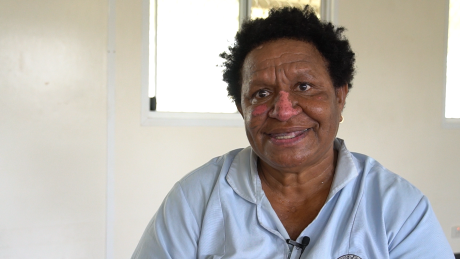 Tajs Jespersen
When nurse Reena Delesae was finally able to acquire a new Bible through MAF's Bible Box, she was filled with a new purpose.
Story by Tajs Jespersen.
Every morning, Reena Delesae goes to work at the EC PNG hospital in Balimo, Western Province. Reena is one of the senior nurses in the hospital that has no staffed doctors.
"It's not like how it was before. We are running out of things like medicine and not many staff," said Reena. "We don't have doctors on the ground, just some that come in to serve… They will stay here (for a few weeks) and then go back."
Image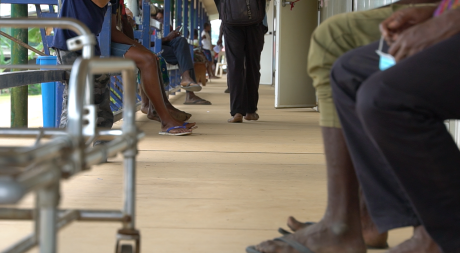 Tajs Jespersen
Patients waiting to be examined
These struggles are a part of everyday life in the rural areas of PNG, where getting access to medical help and personnel is limited. This is why MAF serves these areas.
"MAF helps us, helps us with our supply when we order medicine. It comes with MAF," said Reena. "They bring patients too from the outstations."
It is through these MAF flights that the Bible Box is brought out. The boxes contain Bibles in different languages and MAF are starting to include reading glasses for those with poor eyesight.

You can read more about how reading glasses became part of the Bible Box here.
Being a nurse in PNG is hard work, but through the Bible, Reena has developed a new perspective.
"I know that my Lord is living. My God is living… We are called and there is a purpose," said Reena. "I'm sharing it with the patients… This morning I was telling them it's not a mistake. You came in and lay down here, not for you to die. No, for you to live."
Image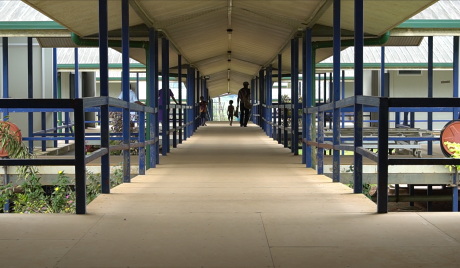 Tajs Jespersen
Walkway at the EC PNG hospital in Balimo where Reena works
Experiencing the love of God is life-changing and according to Reena, there is no turning back.
"We have to decide what we are following. There's another way. There is someone who is speaking to us to follow another way," said Reena.